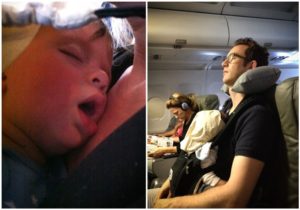 Are you planning to take your baby on holiday? Travelling with your baby is not easy. It presents some unique challenges but it can be fun and relaxing if you are well prepared for the journey.
If you are going to be flying with your baby, note that most airlines do not require an infant over seven days and under two years old to purchase a seat. This does not mean that the baby gets a free seat. It means that parents are allowed to carry their baby in their lap, which is why it is called "infant in arms" or "lap child.
Here are some great tips if you choose to fly with a baby in your lap.
There is nothing to worry about during the entire course of the flight. You will have to hold onto your baby when there is rough air or mid-air turbulence, but let them stand up on your lap, let them stand in front of you, allow them to move freely.
However, conditions might be uncomfortable when going through turbulence or during take-off and landing so do not let them stand up during those conditions. Place your baby on your lap, sit right in front of you so that you can hold your baby tightly. You may consider using a baby carrier. You may want to wear the Baby Bjorn if your baby feels comfortable with it. You may feel safer keeping little one close to you.
You may want to take full advantage of that free flight until your little one turn two. These safety tips when flying with your baby in your lap will keep your little one super safe.