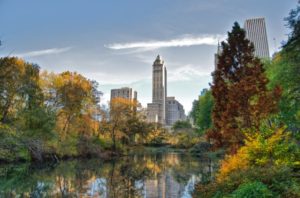 Located in one of the busiest cities in the world, Central Park is a stunning oasis with an electric atmosphere, perfect for some downtime within the hustle and bustle of New York City. This park thrives in Summer, and here are just a few of the great activities you can do on your next visit. 
Visit filming locations
Central Park is a favourite shooting location for plenty of famous Hollywood movies, and even some of your favourite TV shows as well. You can't go to Central Park without visiting Bethesda Terrace, The Mall, or Conservatory Water to see where these iconic scenes were filmed.
Boat ride on the Lake
You can rent a rowboat here, and see Central Park from a stunning point of view. Or, if you'd rather not row, you can take a gondola tour. Perhaps the most fun for your kids though, is playing with model boats on Conservatory Water, just like in Stuart Little.
Central Park Zoo
You can't miss visiting the zoo here at Central Park, where you and your children can see a variety of different animals. And, if you're early and quiet, you might even see some animals in the wild! It's a blast trying to spot owls and turtles, racoons and all the different varieties of birds in the park.
Fishing
Who would've thought you could fish in Central Park? Well, you can! It's catch-and-release, but still a lot of fun for those who love fishing! It can be surreal to fish in the middle of such a large and busy city, but it's also a great way to relax and have some downtime.
Central Park offers many more activities for people of any age to enjoy. You'll always find an activity to do or something exciting to see. There's something for everyone here, which makes Central Park a can't-miss stop on your New York visit.